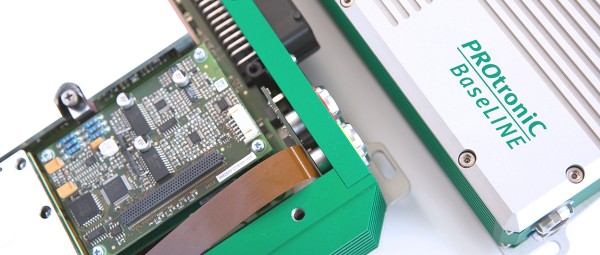 How do ideas become roadworthy?
By thinking – and working in series – right from the start.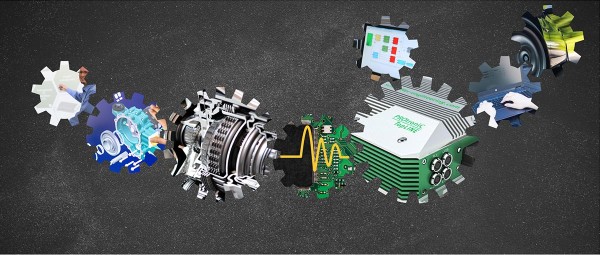 Perfect interaction guaranteed
PROtroniC TopLINE TCU for transmission applications
PROtroniC - Prototyping ECUs for the mobility for tomorrow
From the drivetrain to comfort electronics: with the PROtroniC prototyping ECUs from Schaeffler Engineering, you work completely without complications and keep the serial goal firmly in your sights even during the development of the first prototype. And: You save time and money.
PROtroniC: Rapid Control Prototyping on the Fast Track
With the PROtroniCLINE, Schaeffler Engineering has created the revolution in the field of vehicle technology, thus significantly accelerating the development of mechatronic systems. This is because new approaches to solutions can be quickly and simply evaluated and secured using the flexibly adaptable prototyping control unit long before the series control unit is available.
Using the PROtroniCTopLINE or BaseLINE, customers work with a model-based tool chain which is also suitable for series development. In this way, a smooth transition takes place from the prototyping phase to series development – and ideas are brought more quickly to the road.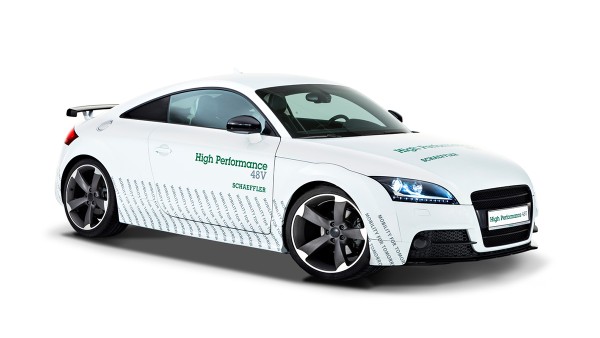 As part of our projects, we as a research institute enter "new automotive territory" on a daily basis. In addition to maintaining sufficient hardware reserves, this requires a maximum degree of flexibility in order to meet the challenges of tomorrow with confidence. Whether in function development or the investigation and application of new hardware components, PROtroniC is the ideal tool for us to reach our goal effectively and reliably.
Advantages
What makes the PROtroniC LINE so unique
1. Integrated Power Stage Outputs and Signal Conditioning
All PROtroniC variants come with extensive integrated signal conditioning and power stage outputs.
2. Customized solutions (HW / SW) for specific applications
State-of-the-art FPGA technology for a softwarebased, quick, and easy configuration of the I/Os according to the specific applications
Adjustment of the offered hardware modules for customer specific applications
3. "Safety on Board" concept to unite RCP and Functional Safety
A multilevel monitoring concept for developing application-specific safety functions in the prototyping system.
Use of development tools certified for developing according to ISO 26262.
4. Seamless Tool-Chain from Design to Series Production
Development environment based on tools used in the automobile industry for prototyping and series developments.
Supporting different code generators and different measurement as well as calibration tools.
The PROtroniC development control unit from Schaeffler Engineering was used in the development and testing of a test fleet of vehicles with fuel cell technology. Due to the limited installation space, special requirements were placed on the compactness of the prototyping control unit. The integrated signal conditioning and power output stages made it possible to meet the requirements for installation space. The necessary number of inputs and outputs for the complex application could also be provided. In order to be able to drive the vehicles on public roads, a multi-level safety concept was developed and integrated together with the BWM Group.
How you can get in touch with us!
Contact Information
If you have questions about technical details, possible applications or requirements of the PROtroniC LINE, please contact us at:
Variants
PROtroniC LINE as Engine, Transmission or Universal Control Unit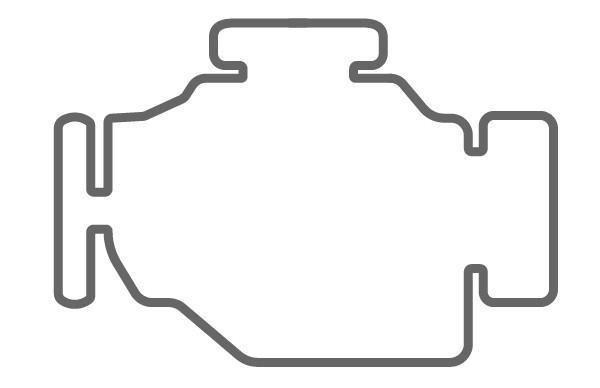 Engine Management Unit (EMU)
The EMU variant of the PROtroniC TopLINE and BaseLINE supports the development of common combustion engines (gasoline, diesel, gas engines) as well as of alternative drives.
Technical Features:
Configurable lambda and knock sensor inputs
Real-time combustion process calculation
Flexibly configurable crank-camshaft system
Support of nearly all electromagnetic injectors
Basic models for gasoline and diesel engines available
Transmission Control Unit (TCU)
Designed especially for transmission applications, the TCU variant of the PROtroniC TopLINE, which has been just released, features a new module for controlling transmission valves.
Technical Features:
16 independent current controlled channels VFS (variable force solenoid) or proportional channels
Precise current measurement
Integrated and configurable PI controller
Configurable dither parameters
Extensive protection and diagnosis mechanisms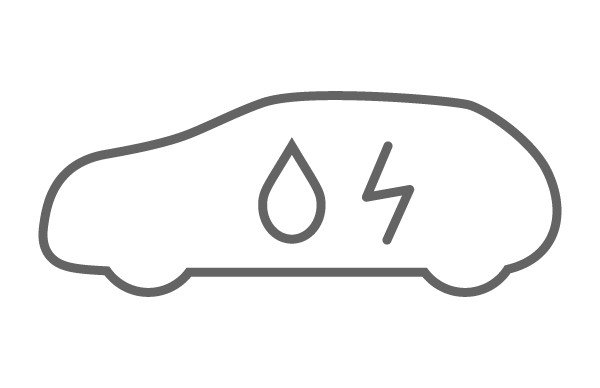 Universal Control Unit (UCU)
As a universal control unit, the UCU variant of the PROtroniC LINE can be used as a "Vehicle Control Unit" (VCU), "Hybrid Control Unit" (HCU) or "Chassis Control Unit" (CCU).
Technical Features:
Integrated signal conditioning and power stage outputs
Software configurable power stage outputs for controlling established automotive actuators
Simplified development of safety related functions with an the optional "Functional Safety" package incl. a multilevel monitoring concept
Highest flexibility with at the same time very good manageability: With the PROtroniC TopLINE used by us it is possible to test and analyse novel control strategies and function logics in real engine operation in a simple way. Schaeffler Engineering's support for all questions relating to engine control and the functional frame is exemplary.
TopLINE
High Performance when it comes to Rapid Control Prototyping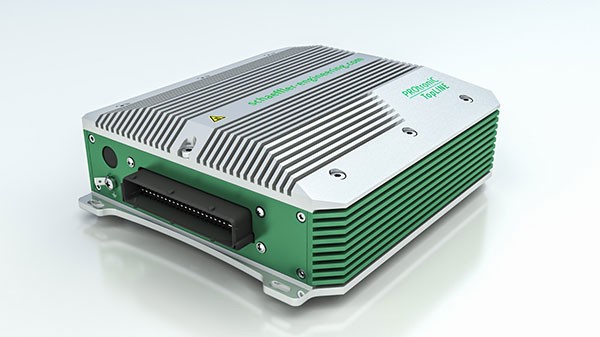 The PROtroniC TopLINE EMU from Schaeffler Engineering used at ABT Sportsline enables efficient pre-development of new vehicle systems and functionalities. In addition, the PROtroniC TopLINE offers versatile interfaces for the analysis of these systems, enabling us to optimally implement internal and external requirements.
The high class of Rapid Control Prototyping
The core of the PROtroniC TopLINE is a real-time processor unit with dual PowerPC architecture, extensive communication interfaces and state-of-the-art FPGA (Field-Programmable-Gate-Array) technology.
A PowerPC processor with 1 GHz processing power and doubleprecision floating-point unit is exclusively reserved for processing the application software. A second processor relieves the main processor from all peripheral and communication tasks.
The processing-intensive and time-critical preparation and pre-processing of the bus, sensor and actuator signals have been transferred to especially configured FPGAs. As a result, the system is not only flexibly adaptable and expandable for future tasks, but also sets standards in terms of processing power.
Technical brochures of the available PROtroniC TopLINE variants
PROtroniC BaseLINE
The basis for best performance in series production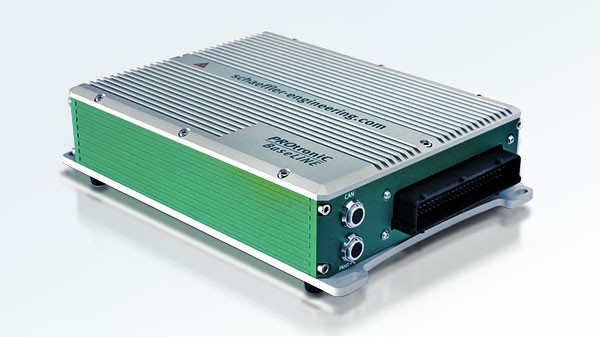 The PROtroniC BaseLINE is the perfect solution for close-to-production working. The heart of this development control unit is provided by the high-performance microcontroller, while various analog and digital inputs provide for perfect connections. Compact, robust and perfect for otherwise costly applications or fleet tests.
As with production control units, a powerful microcontroller of the type Freescale MPC5554 is used in the PROtroniC BaseLINE. Similar to the TopLINE variant, state-of-the-art FPGA technology is used to assist the microcontroller in computing-intensive peripheral tasks and to ensure the required flexibility for the inputs and outputs.
Technical brochures of the available PROtroniC BaseLINE variants
Development Tool-Chain
A seamless development environment - from design to production
In order to simplify the everyday work with the PROtroniC, its development environment is based on the widespread tools used in the automobile industry. In this way, developers not only have the possibility to freely select the code generator, but also the existing measurement and application tools.
The PROtroniC ECU has been a vital tool in many of MAHLE Powertrain's recent advanced engineering projects. Its power, flexibility and ease-of-reconfiguration has allowed us to quickly provide control solutions that would have been difficult or impossible with other systems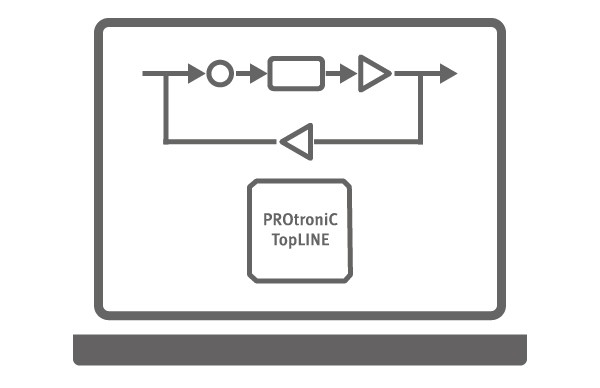 1. Model-based function development
Graphic modeling of the control functions with
MATLAB®
Simulink®
Stateflow®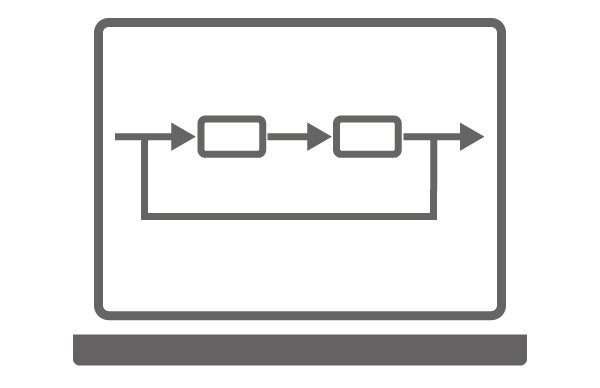 2. Offline simulations
Testing and optimization of draft functions against a controlled system through offline simulations at the computer with
MATLAB®
Simulink®
Stateflow®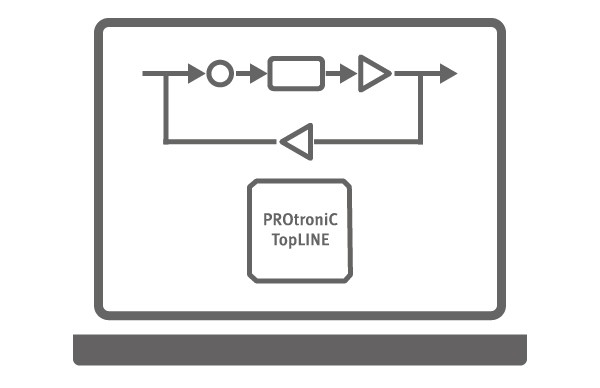 3. Hardware mapping
A link between the inputs and outputs of the function model and the PROtroniC control unit via an application controller interface for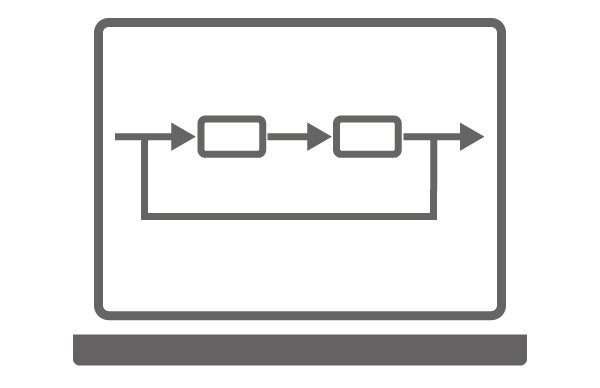 4. Auto code generation
Automatic generation of efficient series codes and, if required, with
TargetLink®
Embedded Coder™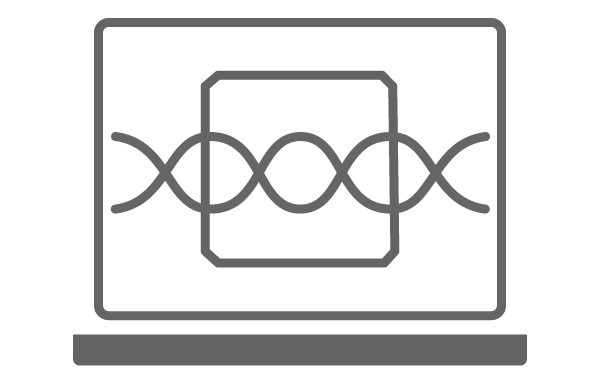 5. Validation
Download of the generated software via the supplied boot loader.
Testing and verification of new functions on the test bench, in the vehicle or via hardware-in-the-loop simulation.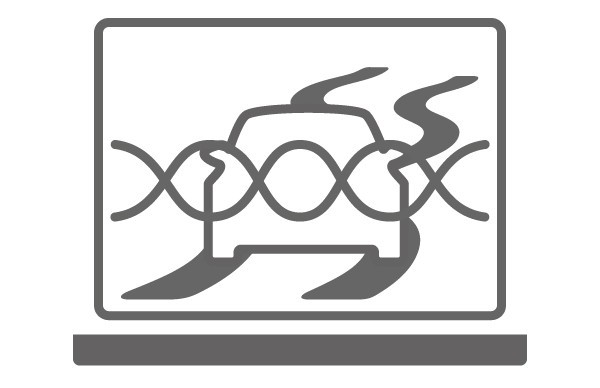 6. Measurement & Application
Fine tuning and measurement of the control software with
"Safety on Board" concept
3-level monitoring concept for developing application-specific safety functions
The PROtroniC LINE connects prototyping with series development. And with optimum safety – thanks to the unique "Safety on Board" concept:
A multi-stage monitoring system guarantees the realization of user-specific safety functions during prototyping.
Only development tools are used that are compatible with ISO 26262.
Enables the conception of safety-related functions in a model-based development environment.
Supports the realization of user-specific safety functions already during prototyping.
Helps to build an optimal system safety for fleet and road tests.
Offers one tool chain for everything – from prototyping to series production.
This sets you off on a safe journey in the direction of series production!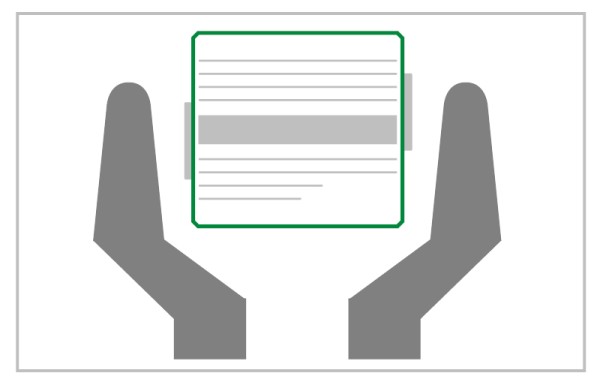 Download
Product Brochure & Technical Brochures of the PROtroniC LINE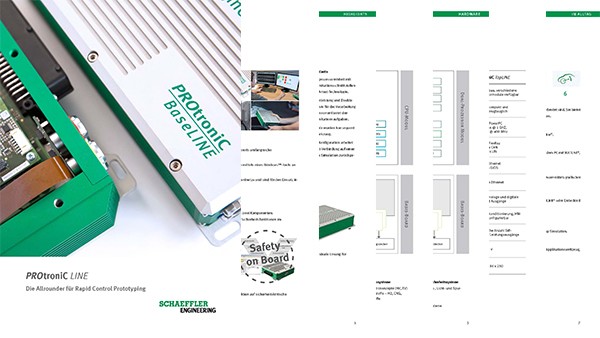 Product Brochure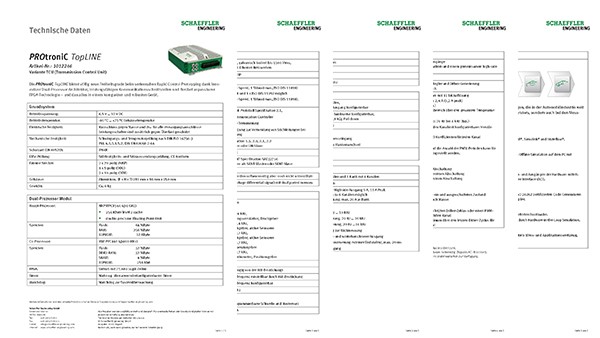 Technical Brochures PROtroniC TopLINE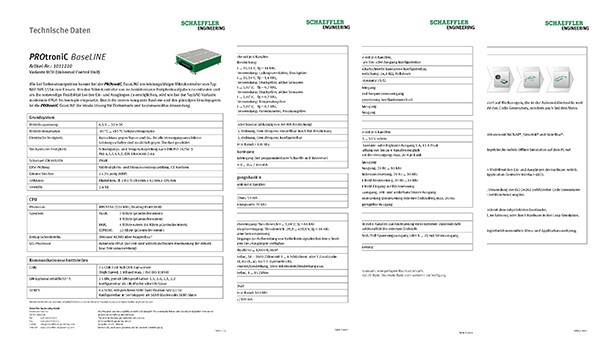 Technical Brochures
---
How you can get in touch with us!
Contact Information
If you have questions about technical details, possible applications or requirements of the PROtroniC LINE, please contact us at:
Share Page