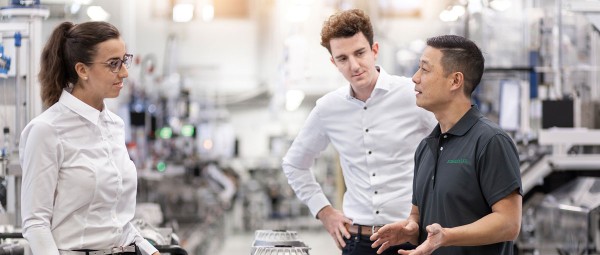 What does the future have to offer me?
The future is what I make it.
Our recruitment team looks forward to receiving your application – no matter whether you apply for one of our advertised vacancies or submit a speculative CV. Send us your details and we'll find you a place in our team.
You can apply via our Candidate Portal on the Schaeffler Careers Site. If you have any questions about job applications, please take at the FAQ section below for more information, or contact us directly via:
Where can I find your current vacant positions?
Our current vacancies are listed in the global job search of Schaeffler. To see them, just select one our locations - Werdohl, Herzogenrath/Aachen, Clausthal-Zellerfeld, Nuremberg or Stuttgart - for the search criteria "City" and click on "Start".
You'll also find all our company's current vacant positions on internet recruitment portals.
---
When should I apply?
If you're looking for a vocational training position, it's worth applying early. For current vacancies advertised on our careers site or internet recruitment portals we recommend you apply as soon as possible. And of course you can send us your speculative CV at any time.
---
Can I speak to the specific department directly?
Many of your questions can be answered in advance by the employees of our HR department. If any questions remain, the information will be gathered from those responsible and forwarded to you.
---
Does an internship count as work experience, e.g. for positions requiring several years of professional experience?
Each application is individually assessed and evaluated, so we're not able to make any general statements on this point. As a rule, successfully completed internships are an advantage. Please provide a clear and insightful description of your internship activities including details such as software programms you used and the duties and responsibilities you were given.
---
What's it like to start a career at Schaeffler Engineering?
Regardless of whether you join Schaeffler Engineering as an intern, a trainee, a graduate or a specialist, you'll have the support of a personal mentor during the early stages. Your mentor will introduce you to your new workplace and familiarize you with all the relevant work procedures. At in-house training sessions you'll find out even more about the company, its work processes and the different areas of activity.
---
Should I apply by E-Mail or in written form?
Regardless of which kind of position you are interested in, you should always apply via the Candidate Portal on the Schaeffler Careers Site. Once you have registered, the application wizard will guide you through the steps of the application process (about ten in all), during which you can enter all the relevant data. Please note that you can upload attachments in various file formats up to a total maximum size of 5 MB. You'll have the opportunity to tell us about your motivation in the free text field at the end of the application.
Normally the entire application process occurs via the Schaeffler candidate portal, to keep the processing time as short as possible. If you don't find the published advertisement again and nevertheless would like to apply with us, you are welcome to do so by e-mail.
Share Page